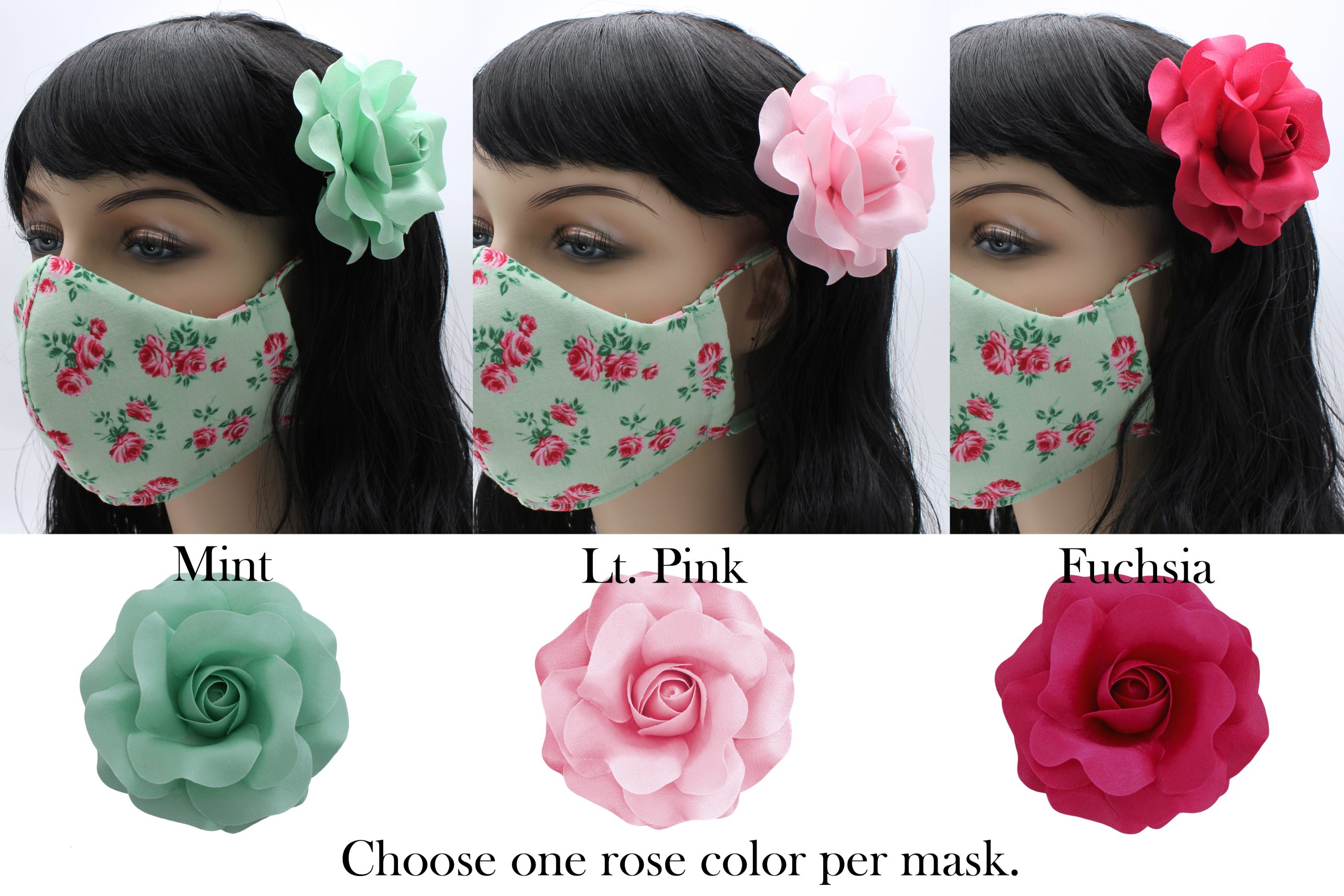 During the Covid19 lockdowns in 2020, in the state of NJ the death toll was rapidly rising towards 26,000 people. So I shut down the business, put the fabric flower making process on hold, and converted the studio to make non-surgical fabric face masks with my industrial equipment for Hospitals, First Responders, Essential Workers and the Navy's hospital ship Mercy.
I was reaching out to groups of women through Facebook who were coordinating large teams of volunteers along the production line to make and donate the final face masks. I noticed that women where cutting curved facemask patterns by hand with scissors. And I realized my industrial die cutting machine that I use to cut flower petals out of stacks of fabric could help them tremendously by speeding up the process. So I contacted my custom die maker Frank Curatolo at National Steel Rule and Die (acquired by Millennium Die Group) so they could custom make the facemask dies for me. Frank knew I wasn't getting paid for this work, my business was closed, so I wasn't earning money, and the custom dies were very expensive. But he also knew the work urgently needed to be done, so he made and donated 4 custom dies for me. His generosity was so kind and touching, I cried when I received them; they are works of art that saved people's lives. I'll donate them to a museum in my will, and I will always be so grateful to Frank.
I was able to die cut hundreds of facemask patterns in the same amount of time it would take for a person to hand cut a couple facemask patterns with a pair of scissors. All the fabric was donated by people making purchases for us from our local fabric store Fabricland in Greenbrook NJ. The owner of Fabricland, Bruce Heyman was very generously working with me to coordinate phone orders for hundreds of yards of fabrics, and loading bolts of fabrics into the trunk of my car during contactless pickups. The front porch of my home based studio became a fabric, supply, patterns and die cut pick up and drop off location for several groups of volunteers from all over NJ. I also have many sewing machines and have been sewing since youth, so I was able to sew some facemasks myself, where I perfected the patterns, and then trained other women how to sew them too.
Since I have debilitating scoliosis, the work did a number on my right arm, neck and back, so I had to keep the business closed for additional time and reopen slowly and part time. But with physical therapy and regular doctors' visits, it's being managed.
But all in all, I'm very proud of all the work we did as a team and the large coordinated efforts of volunteers to save lives at such a critical time in American history. Let's never forget the heroic efforts of the thousands of women and men who set aside their plans and their lives to cut fabrics and sew facemasks and hospital gowns. There were so many men and women and groups that are not listed here, but some of the work we did and their names was documented in my Facebook posts around that time. Even though we're no longer making facemasks together, we've made so many new and good friends and we'll forever have this special connection. We were so socially excited to work together in such isolated times, everyone loved everyone. Please visit my Facebook page to browse through some old posts to learn more: https://www.facebook.com/Sara-Monica-LLC-317907170840
After our services were no longer needed, I made some extra facemasks in the same style and sell them on my Etsy shop as a piece of American history. Now facemasks are a dime a dozen, but these facemask were worth their weight in gold.
Sara Monica Maher
Owner